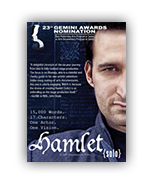 Purchase the documentary DVD
Directed by Jeff Stephenson (Cubicle Warriors, Not Since You, Flyerman), this Gemini nominated documentary chronicles the various personal and artistic struggles encountered en route to realizing Bhaneja's ambitious goal.
Includes interviews with great Canadian actors who have played Hamlet including Christopher Plummer, Paul Gross, John Neville, Colm Feore, Brent Carver, Kenneth Welsh, Richard Monette, Joseph Ziegler, R.H. Thompson, Albert Schultz, Layne Coleman, Ben Carlson, and Tom Barnett.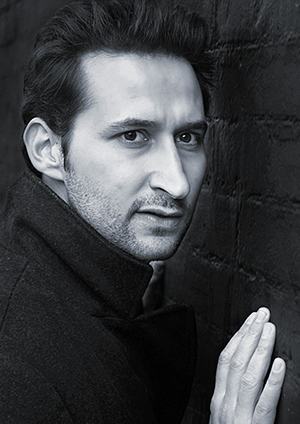 Hope and Hell Theatre Co. presents Hamlet (solo), an exciting one-man version of Shakespeare's Hamlet performed by award winning Canadian actor Raoul Bhaneja, directed by New York based OBIE Award Winner Robert Ross Parker.
Winner of the Montreal English Critic's Circle Award for Best Visiting Production and 2012 nominee Calgary Critic's Award for Best Solo Show, Hamlet (solo) has been performed over 150 times in 25 different cities since its debut at Theatre Passe Muraille in Toronto in 2006.
Hamlet (solo) combines the ancient art of storytelling and the modern "one-man show", a thrilling evening with focuses on the three most essential elements of theatre: The Actor, The Text and The Audience. This production is best described as "bare bones" in its presentation with Bhaneja playing seventeen parts in a two-hour version using only Shakespeare's text. This critically acclaimed production has been enjoyed by audiences as diverse as the people of Inuvik, a community north of the Arctic Circle and the next generation of Britain's young actors at The Royal Academy of Dramatic Art. An exceptional and rare experience for both the novice and Shakespeare enthusiast!
RAOUL BHANEJA is one of Canada's most recognizable stage and screen actor with extensive credits in both mediums, a Gemini and Canadian Comedy Award nominee and Christopher Plummer Artistic Fellowship Award winner. A Maple Blues Award winner as leader of RAOUL and THE BIG TIME he is also a celebrated blues musician.
ROBERT ROSS PARKER is the co-artistic director of the Obie winning Vampire Cowboys where he has directed Vampire Cowboy Trilogy, A Beginner's Guide to Deicide, Living Dead in Denmark, Men of Steel, Fight Girl/Battle World, Soul Samurai, and Alice in Slasherland.  Other directing credits include She Kills Monsters at The Flea, Goodbye Cruel World (also adapter, Roundtable Ensemble), and numerous projects for Ensemble Studio Theatre.